RangeOfSounds.com is reader-supported. We may earn a small commission through products purchased using links on this page.
When you picture an acoustic guitar player, there's a good chance you imagine someone holding a guitar, strumming a simple pattern, and singing soulfully. Maybe they're jamming with other musicians, keeping time, and playing the chords while other players interject with fancy licks.
But this is selling the acoustic short.
The acoustic guitar is capable of shining on its own strength. Even with no other accompanying instruments, or no singing to carry the tune. The acoustic guitar's humble six strings can weave a dense fabric of melody, harmony, and rhythm. As long as there have been acoustic guitar players who reach that perfect intersection of boredom and exploration, there has been fingerstyle playing.
Fingerstyle or fingerpicking has always had its own allure and while it's supposed to be a little hard, the right strings can make a big difference.
I'll explain everything you need to know about picking out the right strings but if you just want to skip ahead and get to picking you can check out my favorites here:
The Beauty Of Fingerstyle Acoustic Guitar
Fingerstyle playing, otherwise known as fingerpicking, is hardly a new idea. Have you ever heard of classical or flamenco guitar playing? Yet, fingerstyle guitar is something of a lost art. It has been relegated to a niche genre, where it was once the default way to play guitar.
There was a period of time in the first half of the twentieth century, when strumming guitar overtook fingerpicking out of necessity. The popular styles of music involved playing with bigger and louder bands- country, jazz, swing. But amplification had yet to be invented, or to catch on. Guitar players strummed just to be heard over percussion, brass sections, and singing. By the time amplification became popular, strumming had already become central to the sound of rock n roll. Songs that featured prominent arpeggios were a novelty.
But the torch has been carried, and it's being passed to new generations.
Great players like John Fahey did their part, laboring away in obscurity and you take inspiration from him in the video below:
Now there are a handful of really popular fingerstyle guitar players who are keeping fingerpicking alive. Kaki King and Andy McKee come to mind, each taking the acoustic in an exciting new direction. And of course, most people are aware of the wildly talented Sunga Jung.
How To Pick The Right Strings For Fingerstyle Playing
If you want to play fingerstyle, you should get your hands on a good set of strings for it!
As I'm sure you can tell, fingerstyle is a challenge, requiring a lot of attention and dexterity. Playing with the right set of strings could be the difference between sailing through a difficult piece and hitting a wall!
Gauge (Lighter Is Better)
Buying strings can be a dizzying task, with so many attributes to sort through. But it's really not complicated once you start to understand it. Gauge, or the thickness of the strings, is the first aspect to decide on. Gauge has the biggest effect on your playing experience, especially when using fingerstyle.
With other playing styles, I would say that there are advantages or disadvantages to buying heavier or lighter strings. But for fingerpicking, based on my own experience and the advice of others, I recommend going light. You can try medium as well, but I don't think heavy strings are ever the best choice.
As you may have guessed, light strings present the least tension and resistance to your fingers. Fingerstyle means playing without a pick by definition, and also tends to involve the most active fretwork of any acoustic playing style. The reasons to go light should be pretty obvious and hard to justify larger gauge acoustic strings.
String Material Can Vary
Four popular materials dominate the acoustic guitar string market. Brass, bronze, phosphor bronze, and silk and steel. The strings vary in tone, with brass being the brightest and silk and steel being the mellowest. Bronze have a medium tone, but tend to weather poorly, so phosphor bronze is a popular solution. It has a similar medium tone to bronze, but lasts for longer.
Phosphor bronze are the most popular strings in general, and could even be called the default strings. For fingerpicking, I would say this choice comes more down to personal preference rather than anything else.
As a fingerpicker, your tone is the star of the show.
There are usually no vocals or other instruments to blend with or support. So it comes down to what tone compliments your playing style best. Offhand, I'd guess that brass strings will sound best on more twangy and country-influenced playing, and silk and string if you're more mellow. Phosphor bronze is a safe starting place if you're not sure or a little inexperienced.
Coated Or Uncoated (Both Can Work But Coated Is Usually Best)
Coated strings are covered with a layer of polymer (often a kind of Teflon also known as polytetrafluoroethylene) that can help protect the strings from the usual wear and tear.
When it comes to fingerpicking, this can be especially helpful since your fingers will be directly touching the string and no matter how often you wash your hands dirt, grime, sweat and debris will go from your finger to the strings.
However, if you're looking to stay true to the classic fingerpicking style, then you may not want to go for coated. That's because coated strings didn't even exist until the 90s and all the old school fingerstyle guitar players were using uncoated strings.
Then there's the issue of sound and if you pay really close attention you'll be able to hear a difference- but it's going to be very subtle.
Some folks will argue that because they're heavier, the coated strings also have a different sound. While there is some science to back this up, not everyone will be able to pick up the difference and you check out this video for a great comparison of just how subtle this really is.
If you don't already have a preference, I'd suggest going with coated strings for fingerstyle. The acidity in your fingers is already going to break down strings faster than pick playing and if you're using your nails for fingerpicking then you're going to wear out the strings even faster. Coated acoustic strings do a better job of resisting acidity and sweat along with holding better when you use your nails to play.
Best Acoustic Guitar Strings For Finger Picking
There are a handful of string brands that consistently make it to the top of musicians' lists.
I think that to some extent, string brand is a question of arbitrary loyalty, like sports teams. But I have to admit that some string brands are making uniquely impressive advancements, or are a particularly great value. And considering most acoustic players should probably be replacing their strings more often than they are (myself included) that's a valid concern!
So we'll be focused on a few brands and pull out some of my favorite fingerstyle strings from a few of them.
Best Overall: Elixir Nanoweb
Best Overall
Elixir Nanoweb Acustics Guitar Strings
Patented nanoweb technology holds up well even when using finger style
Produces a beautiful tone that lasts
More than 17,000 five star reviews on Amazon
Elixir is a relatively new company (at least compared to some of the more popular names), but they've made a name for themselves over the years. I've seen their Nanoweb strings on so many "best strings" lists! Possibly more than any particular model of acoustic strings and it turns out they're great for fingerstyle too.
Elixir has developed a proprietary coating for their nanowebs, which come in phosphor bronze ("rich and full" in their own words) or bronze ("bright and focused."). The idea is that these coated strings keep their tone much longer than typical uncoated strings, and the coating does not compromise the tone.
As I said, the tone is everything for fingerpicking players, and acoustic strings do get duller as they are played. With that, Nanoweb takes my top recommendation.
The only thing I can really say against Nanowebs is that they are expensive, and can be about twice the price of cheap guitar strings. But the extra durability of the nanowebs means that you should be replacing them much less often which makes them a solid investment. Even with the sweat, wear, and tear that comes from fingerstyle, these should last you a while.
It also helps that there are more than 17,000 five star reviews on Amazon including dozens from other fingerstyle players. You can take a closer look at all the gauge options, read more reviews and check today's price on Amazon by clicking here.
Best On A Budget: Ernie Ball Earthwoods
Best on a Budget
Ernie Ball Earthwood Silk and Steel
Great all around workhorse and these are on my acoustics guitar right now
Available in bronze, phosphor bronze, silk, and steel.
If you're looking for something a bit more economical, the Earthwoods are a great option. Not only are they easy on the budget but these are also extra soft which makes them ideal for fingerstyle players that are just getting started and haven't developed callouses.
Super firm strings and a fingerstyle newbie are a recipe for disaster and many fingerstyle careers have ended before they've started as a result of painfully firm strings on soft fingers.
But good for beginners doesn't mean bad for veterans and these acoustic guitar strings are still a great choice for folks that have fingerstyling for years.
While I'm highlighting the silk and steel strings, you can easily find these in bronze, phosphor bronze, silk, and steel. Overall the Earthwoods are great acoustic workhorses and I have a set of the silk and steel Earthwoods on my acoustic right now, in fact.
The only possible downside is that these are uncoated which means they may not hold up as well to long fingerstyle sessions. However, considering their price they're still a good option and if you take some basic precautions (like keeping them clean) and you can expect to get a good life out of them.
You can see all the available gauges, read more reviews and see today's price on Amazon by clicking here.
Best Uncoated String: Martin MA540FX
Best Uncoated Strings
Designed specifically with acuistic fingerpicking in mind
Uncoated may not last as long but some folks will prefer the feel
As it turns out, acoustic guitar masters Martin have a line of strings, the FX line, which were designed with fingerpicking in mind.
The MFX540 have a "flexible core." According to Martin's marketing, this attribute increases flexibility and improves sustain without sacrificing tone. This increased flexibility means they can play for longer before getting fatigued. Moreover, many reviews specifically mention far preferring the tone of the Martin strings above Elixirs. That's an even bigger compliment when you consider that the price is easy on the budget too.
Keep in mind that these strings are not coated, so they may not last as long. But Kaki King and Andy McKee tour and perform with these strings and it stands to reason they are interested in strings with endurance, even if it means sacrificing a bit of tone.
And while I generally recommend light strings, these are medium gauge which means they're going to be harder to hold down while playing. That's not specific to fingerstyle either and just make sure you know what you're getting into when it comes to gauge.
You can take a closer look at these strings, read more reviews, and check the latest price on Amazon by clicking here.
Best For Warm Acoustic Tones: Elixir Polyweb
Best For Warm Tones
Provides a more "played in" sound for warmer tones
Polyweb coating feels smooth on your fingers
Another option from the folks at Elixir is the polyweb coated line of acoustic strings. Where the nanoweb strings (from our best overall pick) create a bright and vibrant sound the polyweb coating is designed to produce a warmer feel. That's often referred to a "played in" feel and whether or not this is for you will come down to preference.
To learn more about the differences here, it's worth checking out this awesome video that showcases the difference between polyweb and nanoweb:
For the record, while researching this article, I looked up the fingerstyle players I referenced above: Sungha Jung, Kaki King, and Andy McKee. Sungha Jung wrote that he loves to play the Elixir Nanoweb Phosphor Bronze, light gauge, and Kaki King plays on Elixir Polywebs. So they're popular across a wide range of fingerstyle guitarists.
As we've seen with other acoustic strings on this list, the coated strings can also give you some extra durability and sometimes even a smoother feelt.
Overall, it's hard to go wrong with any string from Elixir and as you'd expect they have a whole pile of positive reviews across the web. You can see all your gauge options, read some of those reviews and check today's price on Amazon by clicking here.
Best Super Thin Coated String: Ernie Ball Everlast
Best Thin Coated
Barely there and super thing coating for the best of both worlds
Popular many fingerstyle guitarists including Andy McKee
Ernie Ball is a brand that musicians love. Speaking from personal experience, I have witnessed many musicians get a twinkle in their eyes when Ernie Ball comes up.
I couldn't tell you how this brand has managed to charm so many people, but they deserve the reputation. Without fail, Ernie Ball strings are high-quality, good-sounding, and at a very good price. On top of this, Ernie Ball has one of the biggest selections of gauges and materials on the market, and they're constantly innovating with new materials. Off the record, they're totally my brand.
I mentioned Andy McKee earlier. He mentioned in an interview (as well as his Facebook page) that he plays on Ernie Ball Everlast. This is another coated string, like the Elixirs, that claims to have a coating "1,000 times thinner than any other string coating" while also edging out the price of most competitors.
Andy mentions that he likes the Everlast strings because, like many fingerpickers, he loves to experiment with different tunings, and found the strings could withstand that treatment. In the same interview, he said that he likes the Aluminum Bronze strings as well. In his own words, "They have a more balanced tone I think across the whole spectrum of the string gauges. You get the warmth down here and then the higher end points they can still cut through if you're doing some plexion work."
That's enough for me to recommend these to the fingerstyle guitarists out there and you can see all your gauge options along with today's price on Amazon by clicking here.
Best Hex Core Strings: Donner Light Acoustic Guitar Strings
Best Hex Core Strings
Donner Light Acoustic Guitar Strings
Hex core is preferred by some fingerstyle players
Coated for extra durability
All strings were round core until the mid-1970's so if you're looking to stay true to the old school fingerpickers then hex core probably isn't the right match for you.
But if you're looking for stiff and durable strings that are going to hold their tone for a long time then hex core could be a good choice.
Because of their stiffness, the tone of most hex core strings (these included) is brighter and a little cleaner. That's going to be great for some fingerstyle guitarists (usually those playing modern music) but if you're going for the down and dirty blues then you may want to go with something warmer like the polyweb coating from Elixer.
While there are a lot of hex core strings out there, I've gone with Donner's for this list, and even though these fly under the radar below some of the other big brands these are high quality and long lasting. They're also reasonably priced considering what you're getting and it's easy to pay more for the carbon steel.
The hex core design, sturdy material, and light coating all make these strings super durable and a great choice for those big sweaters out there or for fingerstylists who just want don't want to worry about changing strings too frequently.
You can learn more about these, read more reviews and check today's price on Amazon by clicking here.
Best Variety Pack: Ernie Ball Tone Pack
Best Variety Pack
Ernie Ball Acoustic Tone Pack
Experiment and find what you like best for a budget friendly three-pack
Okay, if you've made this far you probably have a good idea of what you're going to go with.
But what if you're still not sure? Or you're new to fingerstyle and you don't know what your preferences really are?
That's where this handy little variety pack from Ernie Ball comes into the picture and you can snag three different tones for a very budget-friendly price. Since we're talking about fingerstyle, I recommend the light pack and it's a great way to train your ear and figure out what you really like.
It's like a sampler platter for guitarists which just sounds delicious. You can take a closer look at what's inside, read more reviews and see today's price on Amazon by clicking here.
Conclusion
There will be plenty of time in your fingerstyle odyssey to try as many strings as your heart wishes. Once you find a string that really speaks to you, you're likely to settle on it for a while, speaking from experience.
Keep playing and build up those callouses! If there's one thing I can attest to. If you're hanging out with friends around a campfire or at the beach, nobody's ever mad to hear some fingerstyle guitar to set the ambiance. Keep working, and feel the joy of the music!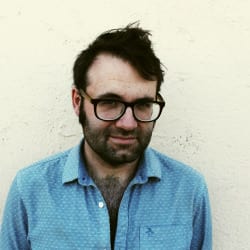 Robert is a freelance audio engineer and the lead writer for Range of Sounds. Robert has had a lifelong obsession with dissecting and understanding music and is a self-taught composer, multi-instrumentalist, songwriter, singer, and recording engineer.