RangeOfSounds.com is reader-supported. We may earn a small commission through products purchased using links on this page.
So often, we listen to music as a stimulant. We crave the rhythm, the melody…and of course the deep bass. We want to feel inspired to sing, move, and dance. Ambient music shows the unique power of music, the seemingly magical quality because it exists for the opposite reason. Ambient music soothes and relaxes.
It can add a calm feeling to an environment without detracting from it. It can help a person focus without drawing too much attention to itself.
While it's seemingly effortless to listen to it's not effortless to create so we'll share 10 tips to help master the delicate craft of creating ambient music.
Start By Listening To Ambient Music
The best way to get started is always to surround yourself with great influences. Visual artists do this with mood boards, so why shouldn't musicians as well? Listen to some of your favorite ambient music, and familiarize yourself with the aesthetics and feelings involved.
I think it's literally impossible to write an article about ambient music without mentioning Brian Eno's Ambient 1: Music for Airports:
The indulgently discerning
Pitchfork named this album the greatest ambient album of all time
, and it's hard to argue. Eno even invented the term ambient, for this amorphous genre that was often referred to with synonyms such as "atmospheric."
Ambient music is a fairly diverse genre though. Since the genre is more about the destination, the journey can take many forms. That is to say, ambient music is defined by its goal to create unobtrusive sonic moods. Sometimes this involves traditional melodies, sometimes it's just sustained chord progressions.
And sometimes it could barely even be called music; more of a soundscape, with few traditional notes. That said, as you listen to more, you will notice the threads that run through ambient music. Try Terry Riley's A Rainbow in Curved Air, The KLF's Chill Out and one of my personal favorites, 猫 シ Corp:
Understanding What Makes Ambient Music
Ambient music tends to have a few elements in common. Rhythms are very light, and don't usually involve percussion like hi-hats. Percussion makes the music feel more rhythmic and driving, so any percussion in ambient music is more often about texture than rhythm. For example, swelling cymbals, wind chimes, and rain sticks.
Ambient music moves, because all music does. But ambient music tends to move much more slowly. The tempos are slow, and ideas are repeated more times before shifting. There is not a focus on "capturing attention" or being "catchy."
10 Tips For Producing Ambient Music
Now that we have some of the big picture ideas out of the way, let's take a closer look at some of the specific characteristics of ambient music along with some tips on how you can become a better producer.
1. Understand Important Ambient Frequency Ranges and Sonic Texture
So much of music production, especially with something like ambient, comes down to a "sound" or "feeling". But that can be hard for a newer producer (or just someone new to the genre) to really pin down.
That's why one of the first things to consider are the key frequency ranges when it comes to ambient music and the type of sonic character they're connected with.
Warmth
Sonic texture is quite crucial in effective ambient music. All music, and indeed all sound, is made up of complex combinations of frequencies. The deeper a person gets into music production, the more they realize that different ranges of frequencies are actually associated with very different emotions and uses, in much the same way that green is a calming color and red is exciting.
Pay attention to the frequency of your favorite ambient tracks and keep this in mind as you start to produce. You can also use a spectrum analyzer and EQ if you want to get more scientific. Frequencies between 250-500 Hz are known to feel "warm." They are one of the reasons we associate vinyl records with a warm sound– vinyl is not great for bass, so engineers would boost these low-mids to compensate. A lot of ambient music features sustained warm tones in this range.
Presence
The frequencies around 1500-3000 Hz have a very "present" and "in-your-face" quality. Ambient music frequently cuts in this area, as anything that's prominent in this range tends to grab attention, and in fact, it's tiring to listen to for long periods- the opposite of ambient music's goal.
Shine
A lot of beautiful shimmering textures happen in the 5k-10k Hz range. You can play with this in ambient music. Try bringing it out more in the more "saturated" or "full" moments in the music, and back off in more contemplative moments.
Sizzle
Finally, 10k-20k Hz is a very detailed, textured range. In typical music production, you hear a lot of "sizzle" and percussion and vocal syllables in this range. I recommend dulling this range a bit. It tends to grab attention and add energy.
2. Set Your Foundation With A Drone
Whether you're producing the perfect ambient track or writing your memoir, the hardest part of many creative endeavors is simply starting. And this isn't just in your head- the "blank page effect" is a real and well-documented issue.
That's why I suggest you always start with a drone to get over this initial hurdle and set your track up for success. If you're not already familiar with the term, a drone is a sustained note (or closely related notes) that stick around for a long interval. It's a common part of ambient music and starting here will give you a foundation to work from.
But you aren't required to keep the drone sound you start with and you can remove it before you consider the track finished. Consider it an anchor point from which you'll explore instead of a limitation! If you're not sure where to get started, this video does an exceptional job explaining how to create a drone:
3. Use Reverb And Delays To Add Depth
Since ambient music aims to be atmospheric- to create or contribute to an environment- the use of reverb can be highly effective. The rules of reverb are a bit different than other types of music production. In ambient music, you can go heavier and wetter on the reverb, because it's not so crucial to hear the details of the original sounds.
Usually in music, it's important to avoid too much bass and low-mid presence in reverb tails, because this leads to a muddy mix. In ambient music, this can actually be a virtue. The music moves more slowly, so reverb creates less mud, and low-mid reverb can simply add more warmth and power to your sound.
Play with the psychoacoustic rules of reverb as well. We don't consciously think about it much, but in daily life we actually hear reverb constantly and use it to understand what kind of environment we are, how close a sound is, etc. You can play with these perceptions to create an immersive environment.
Reverb with a longer tail sounds like a larger and more open space, whereas a shorter tail sounds like a smaller or medium room. Dryer sounds are perceived as closer, wetter as more distant. High-pass sounds to make them sound more distant too. Bass frequencies decay more quickly over open spaces, so distant sounds are mostly mid and high frequencies. Lower frequencies either sound very close or very powerful. Have fun playing with these, and with panning, to create aural collages. The Palm Mall album I linked to above makes great use of this.
4. Ambient Music Isn't Beat-Oriented
If you're already an electronic music producer, then you know just how important the beat is. Change the beat and you could end up with a hardstyle track instead of glitch hop.
But with ambient music, it's the lack of a defined beat that makes the genre. If you try to force your ambient track to play by the same metronome-driven rules as other genres you're going to completely lose the rambling and sprawling feel of a good ambient mix.
This usually means that you need to drop the metronome completely but if that's too big of a leap, at least be prepared to ignore it for the most part.
5. Take Inspiration From Ambient Sounds
The idea that your ambient music should be inspired by ambient sounds shouldn't be too revolutionary- but it's something that's still often overlooked.
Spending time in the mountains, beaches, woods, or any other natural setting is a great way to take inspiration. While there's something to be said for going there and recording the sounds yourself simply listening to a few tracks on YouTube can do the trick.
And even though nature is a great starting point, it's far from the only starting point and city life can be just as inspirational. Again, YouTube can help us here and there are hundreds of "city walk" style videos that take you through a city and allow you to soak up the sounds. This is one of my favorites and could be a great inspiration for your next ambient track:
6. Extreme Stretching For Extreme Ambience
If you've ditched your metronome but still feel like your ambient track is a little too snappy then introducing some stretched sounds and samples could do the trick.
Any decent DAW will have some options for stretching a sound and it can really give you that slow-moving and sprawling sound that's so critical to a great ambient track. If you spend any time talking to other ambient producers you'll also hear folks talking about Paul's Extreme Sound Stretch which is a free plugin that's perfect for ambient music. This video will give you quick how to:
7. Experiment With Pitch Shift
Pitch shifting is found just about everywhere in music but it's definitely a staple of the ambient genre. Experiment with pitch shifting once you have the foundation to your track and it's a great way to add extra layers. This video is a great example of a simple ambient track that fully leverages the power of the pitch shift and should give you some inspiration:
8. Volume Automation Can Add Extra Texture To Your Ambient Track
Ambient music isn't about hitting notes or sticking with a specific BPM- it's about texture.
Volume automation can help you create this texture across the entire track and can help smooth out your track and make it feel more…ambient. Focus on longer fade-ins and longer fade-outs and experiment from there but your overall goal is usually to reduce the attack of all instruments and sounds in your mix.
9. Flip It To Fix Texture
One of the easiest shifts you can make to your ambient sounds and tracks is simply reversing the sound, sample, or entire track. No, I'm not exactly talking about backmasking and adding a hidden message to your track but instead just experimenting with sounds in a different order.
Ambient music is not about hitting the expected note or gearing everyone up for the drop and sometimes playing a sound backward is a great way to avoid accidentally setting that up. It can also be a fun way to get something more unique out of a common sample and it's part of my standard ambient exploration.
10. Lean Into Change…Slowly
Ambient music can often be mischaracterized as just one long drone and one of my earlier tips could even confuse the novice ambient producer into thinking this is the case.
But change is just as important for ambient music as for any other genre. But with ambient, it's a slow and subtle change.
Stay with me here, but think of ambient music like a caterpillar moving. The caterpillar doesn't move fast or make any sudden movements but there's still a lot going on as its long body and many legs are making subtle movements in one direction. Ambient music is a lot like that- a collection of subtle shifts that come together slowly to move you towards a specific direction.
Since we're holding lots of notes and adding plenty of delays the best way to work this in is via layers. Multiple notes being held for long periods of time will give your ambient track a texture and feel that defines the genre. This can be done in a variety of ways but don't be afraid to EQ and layer until you feel there's nothing more to add.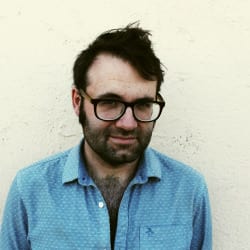 Robert is a freelance audio engineer and the lead writer for Range of Sounds. Robert has had a lifelong obsession with dissecting and understanding music and is a self-taught composer, multi-instrumentalist, songwriter, singer, and recording engineer.