RangeOfSounds.com is reader-supported. We may earn a small commission through products purchased using links on this page.
Are you ready for the hot take of the millenium? Here it comes…
The average acoustic guitar with a built-in pickup plugged in, amplified, and ready for live performance, sounds dreadful. Worse, it sounds un-musical. And the lack of a quality microphone for live performance is one of the biggest culprits here.
Fine, it's not the hottest take, but why is it the default? I am a producer living in LA, and I've been to my share of open mic nights and acoustic singer-songwriter nights. The average "acoustic-electric" guitar has a piezo pickup built-in, and the default approach is to just plug in an instrument cable to a PA and be done with it.
Yes, the piezo gets the job done, but in my opinion, it's selling the audience short of a gorgeous experience. An acoustic guitar is a perennial favorite for a very good reason. Portable, simple, inexpensive, yet easily able to beautifully carry an entire song in dozens of genres. The acoustic guitar tone is complex, warm, and magical, perfected over hundreds of years from its lute roots. It's got the warm low frequencies, the complex organic mids, and the shimmering, rhythmic, detailed high frequencies.
A piezo pickup captures the sound of the string being struck, and pretty much cancels out the resonance of the entire rest of the instrument. The result reduces this near-supernatural tone to something closer to a Super Nintendo soundtrack.
But it doesn't have to be this way.
So one of my personal missions in life: to advocate using mics for live acoustic guitars. Yes, it's more of a hassle, more expensive, and more finicky. But what's the point of going through all the trouble of learning to play beautiful and moving music, just to sell it short at the last second by playing it with a mediocre tone?
I'll walk you through my favorite microphones for live acoustic guitar performances along with how I picked them but if you just want to skip ahead and see my favorites you can check them out here:
What To Look For In A Live Mic Set Up For Your Acoustic Guitar
Before I start recommending specific mics, it's helpful to think about some broader concepts. The three most common mic types are dynamic, condenser, and ribbon so let's look at how each of these performs when it comes to a live acoustic performance.
Dynamic Mics
Dynamic microphones are very popular for live applications because they tend to be cheaper, more durable, and less prone to feedback than the other types.
But dynamic mics are not nearly as sensitive. They are particularly tricky to pair with acoustic guitars for two reasons. The first is that they don't capture as much of the high-frequency sparkle and texture of the acoustic guitar. Because of their specific frequency response, they leave some tone on the table.
And second, dynamic mics will experience a more noticeable drop in volume, as the performer's distance from the mic varies.
Despite those reasons, if you want to get a dynamic mic, there's always the old standby- the Shure SM57.
The SM57 and its SM58 cousin are ubiquitous. In fact, any given studio or live setup in the world is more likely than not to include at least one of the two and they can work for everything from live guitar to talk boxes and everything in between. With its price point and legendary ability to withstand abuse, the SM57's popularity is no secret.
But when it comes to live acoustic guitar performances and dynamic microphones, I really recommend shooting a bit higher. I've personally used SM57 on acoustic guitar, and the naked truth is you can do a lot better. So much subtlety of the instrument is lost. But of course, that means spending more and there's probably better areas to spend on when it comes to your set up.
Condenser Mics
Condenser microphones are more closely associated with studio recording than a live mic setup. As you may be able to infer, they are more delicate, expensive, and fussy with feedback when used live. But in terms of sound, there is no comparison.
A condenser mic gets you that "high fidelity" sound, with all the clarity and detail captured.
Condenser microphones are where things really heat up. The "small-diaphragm condenser mic for high-fidelity live miking" market is crowded, competitive, and even a little confusing so I'll recommend a few standout choices.
Ribbon Mics
I have seen a couple of ribbon microphone recommendations, but I hesitate to repeat them. Ribbon mics are a lot of fun to play with- they have a unique natural sound. I've heard it said that they "hear like your ears." But they tend to be the most expensive and delicate, they have very low output, and they have a figure-8 pickup pattern by design.
This means they pick up sound equally on both sides of the mic, with "null points" in between. This gets very tricky in a live setting. It exposes you to all kinds of feedback and bleed-from-other-instruments issues.
Other Microphones
You may associate mics on stands with musicians, and tiny clip-on mics with motivational speakers and reporters. But a clip-on lav mic could actually be an incredibly compelling choice to mic an acoustic guitar live. My recommendation here is a condenser, so it captures that deep and detailed tone and the performer can move around with abandon.
You're just not going to get that kind of audio quality from a lav mic- even if you spend a pretty penny on it.
What About Live Vocals and Acoustic Guitar?
Most people are going to be singing and playing the guitar so what's the best option in this situation? Should you look for a single microphone to amplify live vocals and acoustic guitar simultaneously?
After going back and forth, I'm going to recommend against this. It's possible, but any mic that could realistically do it well costs more than getting two decent mics, one for vocals and one for guitar. Couple that with the fact that this just increases the headache of balancing levels and avoiding feedback.
Even though we're talking about a live performance, if you're also recording your live performance having two microphones can make the mixing and mastering process much easier since you have individual control over vocals and guitar. I can't see a compelling reason to recommend the single microphone set up for the majority of performers.
If you're wondering about the setup, the folks at Recording Revolution share a great overview of how to do this in a recording studio which will carry over to the live setting:
This really does let you get the best of both worlds and while it might 
seem 
more complicated, the two microphone setup is actually the easier option in most cases.
Best Microphones For Live Acoustic Guitar
Now that you have a better overview of the microphone landscape, let's get into my recommendations.
Best Dynamic Mic: Sennheiser MD421
Best Dynamic Mic
Get the high-fidelity of a condenser mic with the affordability of a dynamic microphone
Works great with more than just live guitar and this workhorse of a microphone and handles everything you throw at it
Great reviews from other musicians
The Sennheiser MD421 is such a cool and likable mic.
Simply put, it sounds good on everything and amazing on a lot of things. And come on, just look at it. Paired with its proprietary curved mount, it's got this unbeatable raygun-gothic class that instantly elevates your stage presence. I hadn't heard of the MD421 recommended for acoustic guitar before today, but I recently got a chance to listen to it with a live acoustic guitar (one of those open mic nights again) and was very pleasantly surprised.
The MD421 captures a clear tone that I would have initially guessed was from a condenser mic. But as I listened, I appreciated that the tone was deeper, powerful, and more musical than condensers usually offer. Truly the best of both worlds.
You can hear exactly what this sounds like with an acoustic guitar here:
As if I needed to gush anymore, the MD421 is also a great all-around mic to own if you have any other versatile needs. It's known to be a killer on guitar cabs and bass amps. It's great for miking brass and wind players, drums, or vocals.
Honestly, I'm not sure I know of another mic that can shine on so many sources. I'm definitely not the only one that loves this microphone and the reviews on Amazon are a little nutty. You can read some of them, take a closer look at the stylish design and see today's price on Amazon by clicking here.
Dynamic Mic On A Budget: Beyerdynamic M201
Dynamic Mic On A Budget
Unique and compact design make it easy to gig with
Hypercardioid design is great for live performances and acoustic instruments
Easy on the budget
For the purpose of variety, I also saw a couple of recs for the Beyerdynamic M201. I've never seen a dynamic mic that looks so much like a small-diaphragm condenser. In fact, I made myself check about three times to make sure I hadn't gotten it wrong. I listened to a sample of M201 on acoustic guitar and it also sounded spectacular for a dynamic mic on an acoustic guitar.
While the tone lacked the sweetness and power of the MD421, in my personal opinion, those are the types of sacrifices you have to make when it comes to a budget pick.
Still, this microphone sounds really good and you can hear a sample of how the M201 sounds with a live guitar here:
Overall, the M201 is a solid choice for a handful of reasons. Not only is it easy on the budget, but it's also much smaller than most mics (including the MD421) which could be a positive attribute for some folks.
It's also got a hypercardioid pickup pattern, as opposed to the cardioid MD421. Translation: the MD421 is focused on what's in front of it, over anything else, but the m201 is even moreso. Great for live applications, where greater directionality translates to less bleed from other instruments and less feedback. Finally, the M201 is just about as versatile as the MD421 when it comes to different sources and is a worthy contender for your consideration if you're interested in a dynamic microphone.
You can take a closer look at the unique design, read more reviews and see today's price on Amazon by clicking here.
Best Condenser Mic: Neumann KM 184
Best Condenser Mic
Exceptional quality from a legendary brand that's been around for decades
Get studio-quality sound during a live performance with this premium microphone
Premium quality comes with premium pricing
Neumann is to Shure as Mercedes is to Ford. I'm actually very pleased with this very apropos comparison.
Neumann is the legendary, designed-and-built-in-Germany choice. Perhaps you've heard of a little vocal mic known as the U87? You know, the actual legendary microphone.
And the KM 184 is probably their second most important modern mic. This mic is basically the gold standard of live small-diaphragm condenser mics. If you're pursuing live high-fidelity engineering in general, a stereo pair is probably a worthwhile investment. I've seen this setup used for everything from Foley work, to close-miking live instrumentalists, to playing "room mic" to an entire orchestra.
Of course, it's also perfect for a live acoustic guitar performance too.
You can hear it in action with a live acoustic performance (along with a solid overview of this microphone) in this video:
The KM 184 has been in dozens of "microphone shootouts" and I haven't found one yet where it loses in the category of condenser microphone. I have to say it's my very favorite mic I have heard for live acoustic guitar playing. The detail and clarity are a given, but it also captured this complex quality that I'm really struggling not to just call "magic" and be done with it. Listen for yourself, honestly!
The only downside is the cost and you should consider this microphone to be an investment in your live acoustic performances but not everyone is ready for that. Depending on your budget, this could be a great match.
It's also worth noting that despite this microphone showing up on dozens of "best of" lists, YouTube videos, and live performances there just aren't very many reviews out there. Whether you're looking at the product page for Amazon, Sweetwater, Guitar Center, or anywhere else this doesn't get as many reviews as budget products get.
That also means that one or two lower reviews can impact the overall ranking so make sure you take aggregate ranking with a grain of salt and look at the big picture.
You can read the handful of reviews, check out more of the specifications, and see today's price on Amazon by clicking here.
Condenser Mic On A Budget: Avantone CK-1
Condenser Mic On A Budget
A great balance of fidelity and budget makes it a great choice for open mics with your acoustic guitar
Backed by Avantone which has a long history of quality mics at affordable prices
Just the right sensitivity for chaotic road shows
Ahh, the
Avantone CK-1. I never miss an opportunity to recommend this company.
Full disclosure, I'm a personal fan, and I've happily owned two of their (other) mics. Avantone's mission is simple and admirable. They are almost universally the best in their (relatively attainable) price range.
I'd personally pick them over any other budget option like a Behringer or MX. Avantone is famous for punching above their weight. For example, their CV-12 large-diaphragm tube condenser is a mid-priced mic that is known to face off against mics several times its price…and win.
The CK-1 carries on this tradition of punching above its weight class and while it's probably the most lo-fi offering on this list it packs a punch considering its price. You get a sound quality that's closer to the M201 along with a very budget-friendly price. Because of that, it should be on your radar. Especially because an inexpensive condenser mic assuages potential hang-ups about bringing a more sensitive mic on the road.
You can check out the rest of the specifications, read more reviews and see today's price on Amazon by clicking here.
Most Balanced Option: Shure SM81
Most Balanced Option
Strikes a balance between everything: budget, fidelity, durability, and flexibility
Known as the "standard" live mic for both vocals and acoustic guitars for good reason
Exceptional reviews on Amazon
Shure has a way of quietly maneuvering their way into "the standard" territory. And the Shure SM81 is "the standard" live condenser mic for acoustic guitar. With a reasonable price point, a classy design, and relatively rugged construction, this position is not hard to defend.
As you may know, close-miking comes with the (potential) hazard of the proximity effect. Low frequencies are boosted when listening to close distances. If you want your vocals to take priority, without guitar low frequencies muddying them up, the SM81 also boasts a 6 or 18 dB/octave low-frequency roll-off switch.
Of course, the engineer could handle that with EQ. But it never hurts to be prepared.
You can check out some of the amazing reviews, take a closer look at the specifications and see today's price on Amazon by clicking here.
Unexpectedly Awesome Clip-On Choice: Audio Technica PRO 70
Unexpectedly Awesome Clip-On Choice
This clip-on delivers a lot more power than you'd expected- especially considering the price point
The simple setup makes it a great option for small venues and intimate acoustic performances
Great reviews across the web
I have to be honest, my expectations for the Audio Technica PRO 70 were low. I mean, it's tiny, and it's marketed as a lav mic foremost, for corporate presentations and the like. And most of all, easier on the budget than just about any other microphone you can find (that you could actually use for a live performance at least).
But I came across a few enthusiastic recommendations, including one from a veteran acoustic guitar and banjo player who claimed to like it more than any more expensive setup they had tried. So my curiosity was piqued and I found some samples. Even though we know YouTube condenses the audio quality, you can still get a feel for this microphone from this video:
Can I leave it at "WOW"? I mean, it's not like it sounded better than the MD421 or the KM 184.
But for the price, and the added convenience that clip-on mics offer, I was tempted to put this recommendation at the top of the list. And it comes with an acoustic guitar clip to boot. Evidently, the PRO 70's reputation precedes it, and it now has the bizarre distinction of being marketed as a "lavalier/acoustic guitar clip-on" mic. And there you have it.
However, when recording acoustic guitar in the studio, nothing beats a stereo recording with two mics. Now I'm wondering about the feasibility of live-miking acoustic guitar in stereo with two Audio Technica PRO 70s. I searched around but wasn't able to find anybody talking about this particular approach. Of course, stereo in live settings is very tricky, and often ill-advised. I still wonder though!
So this microphone is great for a budget productions but if you're looking to mix, master, and produce your live guitar performance afterward this probably isn't the best choice.
You can read more reviews and check out today's price on Amazon by clicking here.
Conclusion
I can't help it- I'm always encouraging people not to settle, to demand more, to be ambitious. If you're an acoustic guitar player who plays live, I encourage you to be on the forefront of mics-over-piezos. Spread the message. Acoustic guitars can sound great live. They don't have to rock that piezo tone that is somehow both grating and lifeless at once. Keep working, and feel the joy of the music!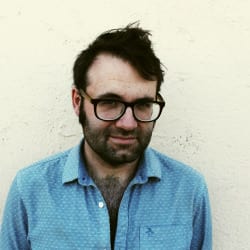 Robert is a freelance audio engineer and the lead writer for Range of Sounds. Robert has had a lifelong obsession with dissecting and understanding music and is a self-taught composer, multi-instrumentalist, songwriter, singer, and recording engineer.